HEALTH IS REAL WEALTH
"Self-care is when you are aware and mindful on a holistic level, so you pay attention to the upkeep, maintenance, repair of all facets of your being".
- EZRA BEN-YISRAEL -
Welcome to Edifying Answers Training Consultancy: Specialist in Empowerment training and personal development
Edifying Answers can make a huge contribution to the growth and development of any business. We bring dynamic change to teams and services and inspire individuals through our empowerment and transformational workshops, which has a direct impact on the success of the wider business.
We endevour to provide professionals with the confidence, knowledge and skills set to drive your business to a greater level. Edifying Answers always execute with a T.O.P. standard. 
Techniques - Through our bespoke crafted skills set, we don't just educate, we Unlock Insight.                     
Originality - We believe in setting the trend in all that we do to create a unique journey and experience.
Professionalism - All interactions with us are facilitated through an A-Class service delivery.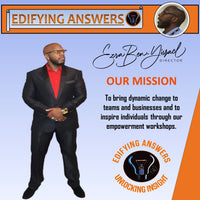 ABOUT US:
Edifying Answers operating in London, provides specialist and bespoke training workshops to organisations and businesses who are passionate about their self development. We don't just educate, we Unlock Insight. 
Our proven track record of delivering a high-quality service leaves professional's feeling inspired, motivated and energised.
Ezra (the founder and director of Edifying Answers) is a dynamic trainer and influential motivational speaker that unlocks insight through his transformational workshops, talks and webinars. 
Ezra has over 12 years of working within the Criminal Justice Sector, 11 years of facilitating psycho-social group based interventions (both in the prison establishment and in the community), over a decade of leadership experience of managing, coaching, influencing and developing others and over 10 years' experience of designing and delivering training, workshops and motivational speaking.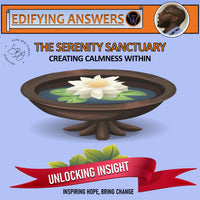 THE SERENITY SANCTUARY
The Serenity Sanctuary is a new and exciting service that Edifying Answers are providing. We crafted this package to provide empowering content and materials to ensure the continuation of your health and wellbeing as you navigate through the journey of life. This package consists of six foundational pillars:
- Private Telegram Group - Zoom Workshops - Free Toolkits and Mind Mapping Resources - Exclusive VIP access to webinars - One-off complementary 45-minute coaching session - Discounts on live events and webinars.
FIND OUT MORE HERE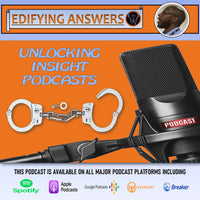 UNLOCKING INSIGHT POCASTS
This monthly podcast is about inspiring individuals to become the best version of themselves by providing rich content that empowering you and Unlocking Insight into essential areas of your life. This podcast aims to provide practical tools that can be used in day-to-day life so you can experience change, growth and development both personally and professionally.
LISTEN TO PODCAST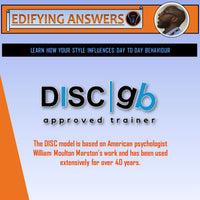 DISC GB Approved Trainer
We use the everything DISC range of profiles as an integrated part of your solutions.
DISC is a self-assessment tool that helps you to understand why you, and others, behave in the way that you do in the workplace.
The DISC Model has identified four dimensions: Dominance, Influence, Steadiness and Conscientiousness which describe the typical behavioural styles of individuals.
A range of highly personalised reports provide insights into your own style, the priorities that drive your behaviour and a practical set of tips to help you interact and communicate more effectively.
DISC TRAINING - WHAT IS YOUR PERSONALITY?
UNLOCK YOUR INSIGHT:
In this increasingly competitive market, Edifying Answers empowers businesses to unlock employees insight by providing training, workshops and mentoring to create personal and interactive experiences that evoke change and boost confidence.
Edifying Answers delivers a variety of bespoke staff training which covers two specialist areas:
Empowerment Workshops: These include Leadership Development, Motivational Interviewing, Positive Thinking, Healthy Me and Effective Team Working.
Substance Awareness Workshops: These include Exploring Addictions, Rethink Your Drinking, Substance Awareness and Key Working Skills and Motivating Clients.
To find out more about all our empowerment training workshops click the link below
empowerment training workshops available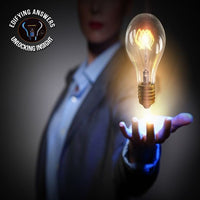 LEADERSHIP IN ACTION
Check out the list of professional Substance Awareness workshops that we facilitate to expand knowledge, develop skills and build confidence. These include topics such as Rethink Your Drinking, Motivational Interviewing, Exploring Addictions, Facilitation Core Skills and Key Working & Motivating Clients.
SUBSTANCE AWARENESS WORKSHOPS AVAILABLE
TESTIMONIALS
It was really useful and thought provoking. I was engaged throughout the training.

Alice (Key Working Skills)
This training has given me more confidence. I now feel optimistic and i'm looking forward to developing.

Grace (Facilitation Core Skills)
I like the style of delivery and the group work  throughout the session.

Yvonne (Leadership Development)
CLIENTS THAT WE SUPPORTED